Bubblegum Bridge is the 7th episode of Candy Crush Saga and the first episode of World Two. This episode was released on 23 May 2012. It also introduces one of the main, recurring antagonists of the game: the Bubblegum Troll. The champion title for this episode is Troll Hunter.
Before episode:
Tiffi encounters a pink monster named the Bubblegum Troll that wants candy and as the name suggests, the river is filled with liquid bubblegum.
After episode:
The Bubblegum Troll steals away Tiffi's candies, making her cry. In the meantime, an airship labelled "Candy Crush Saga" picks up Tiffi and takes her to the next episode, Salty Canyon.
New things
Edit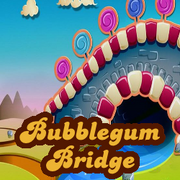 This episode contains levels 81–95.
Bubblegum Bridge is a somewhat easy episode. It has five somewhat hard-hard levels: 83, 86, 88, 89 and 91, and one very hard level: 92. Overall, it is of similar difficulty as the previous episode, Easter Bunny Hills.
| 4 | 5 | 6 |
| --- | --- | --- |
| 1 | 9 | 5 |
Sugar Drop levels

Level 91
Level 92
Level 95
 Difficulty code summary (details here)
None • Very Easy • Easy • Somewhat Easy • Medium • Somewhat Hard • Hard • Very Hard • Extremely Hard • Nearly Impossible • Variable
 Note that goals include target score.
0
 - 4
 - 3
2
2
 - 1
 - 2
4
1
1
0
0
0
Level
Type
Moves
Target score
Goal
Walkthrough
Remarks
81
32
30,000
: 3

02:09

Candy Crush Saga Level 81

is introduced
82
 - 35
 - 30
75,000
 - : 3   : 2
 - : 1   : 2

02:19

Candy Crush Saga Level 82

A level shaped like an hourglass
83
30
25,000
: 3

01:49

Candy Crush Saga Level 83

84
Infinite
15,000
: 15,000 pts in 1.5 mins

03:05

Candy Crush Saga Level 84

85
50
110,000
: 4   : 4

03:35

Candy Crush Saga Level 85

86
45
40,000
: 25

02:59

Candy Crush Saga Level 86 ( New with 45 Moves ) No Boosters 3 Stars

87
50
80,000
: 4   : 4

04:24

Candy Crush Saga Level 87

88
40
50,000
: 18

02:16

Candy Crush Saga Level 88

89
50
100,000
: 24

03:51

Candy Crush Saga Level 89 - 2 Star - no boosters

90
30
30,000
: 1   : 1

03:10

Candy Crush Saga Level 90

91
30
60,000
: 28

03:47

Candy Crush Saga Level 91

92
45
30,000
: 2   : 1

02:58

Candy Crush Saga Level 92 ( New with 45 Moves ) No Boosters 2 Stars

93
45
130,000
: 49

02:21

Candy Crush Saga Level 93-0

94
Infinite
10,000
: 10,000 pts in 1 min

02:00

Candy Crush Saga Level 94

95
45
50,000
: 1   : 1

02:48

Candy Crush Saga Level 95
When playing in web version, this episode is the background while the game is loading.
This episode has 7 ingredients levels, the most of any episode.
This is the first episode that finishes with an ingredient level (level 95).
This is the first episode to have more ingredients levels than jelly levels, the second being Toffee Tower.
For unknown reasons, the ending cutscene of this episode is not seen in the mobile version.
The railings are made out of bubblegum. But the pathway is made out of stone.
This is one of the episodes where no characters appear on the background of mobile version.
The release date of this episode coincides with "International Day to End Obstetric Fistula".
This episode contains the first very hard level in reality, which is level 92