Removed content

This page contains information about content that was previously in the game but got removed.
Charm of Frozen Time (also known as Frozen Alarm Clock) was a charm in Candy Crush Saga which freezes the timer when the player is planning their next move. It was only usable in timed levels. This charm is no longer available for purchase after the removal of charms from the game when the 29th episode, Soda Swamp was released. But some people still have this charm until now.
This used to cost $25.
Description
Edit
Game description
Edit
When you cursor on the waiting time for the next live or the "Full" text, an inscription will show up: "This charm makes time stand still when you're planning your moves on levels with time limits! Use now or uncheck to use later."
Web description
Edit
Make the time stand still! This booster is great for planning moves on levels with time limits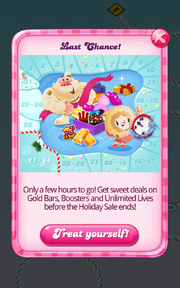 Even though it is no longer available for purchase, there is a workaround. When you're playing a Timed Level, hit the Back button to temporarily activate it. You will see the You pressed the quit button screen, along with the score, notification bar, and Play On and End Game. Although this is useful, you can't make any moves until you press "Play On" to resume. Very useful if you need to check on the remaining battery power on Samsung Galaxy.
Even though it is no longer available for purchase, it may appear in other screens to indicate one event is going to end.
For some unknown reasons for persons who still have this charm cannot use this charm in Candy Column level 3.