Removed content

This page contains information about content that was previously in the game but got removed.
Episode
11
World
2
Levels
141-155
Characters
Witch
New features
Release date
 - 5 March 2014
 - 31 March 2014
Difficulty
Medium
Previous
Next
Cookie Cabana was the 11th episode in Dreamworld and the fifth episode of World Two of Dreamworld. This episode was released on 5 March 2014. It was the Dreamworld equivalent to the Reality episode Gingerbread Glade.
The Witch's gingerbread house became animated by magic and turns into a one-eyed monster and moves with its legs, making her frustrated.
New things
Edit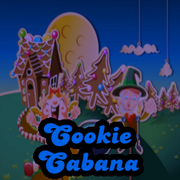 This episode contains levels 141-155.
Cookie Cabana has two hard levels: 141 and 149 and two very hard levels: 145 and 151. Despite the same difficulty as previous episode, Sparkle Submarino, it is considered slightly easier than the previous episode. And it is also known as the easiest episode of World Two (Dreamworld).
| 5 | 6 |
| --- | --- |
| 4 | 4 |
 Difficulty code summary (details here)
None • Very Easy • Easy • Somewhat Easy • Medium • Somewhat Hard • Hard • Very Hard • Extremely Hard • Nearly Impossible • Variable
 Note that goals include target score.
| | | | | | | | |
| --- | --- | --- | --- | --- | --- | --- | --- |
| | Level | Type | Moves | Target score | Goal | Walkthrough | Remarks |
| | 141 | | 18 | 10,000 | : 45   : 45   : 45 | | is introduced |
| | 142 | | 35 | 30,000 | : 2   : 2 | | |
| | 143 | | 27 | 70,000 | : 17   : 64 | | |
| | 144 | | 30 | 220,000 | : 220,000 pts | | Final in Dreamworld until level 358 |
| | 145 | | 20 | 30,000 | : 55   : 55   : 55 | | |
| | 146 | | 40 | 40,000 | : 99   : 99   : 13 | | |
| | 147 | | 25 | 125,000 | : 58 | | Used to be infamous for its ridiculous difficulty but got badly nerfed |
| | 148 | | 44 | 50,000 | : 2   : 2 | | |
| | 149 | | 30 | 30,000 | : 99   : 99   : 12 | | |
| | 150 | | 35 | 30,000 | : 10 | | |
| | 151 | | 25 | 110,000 | : 46 | | |
| | 152 | | 50 | 60,000 | : 3   : 3 | | |
| | 153 | | 30 | 20,000 | : 1 | | |
| | 154 | | 40 | 10,000 | : 4 | | |
| | 155 | | 25 | 95,000 | : 41 | | |