Holiday Hut is the 19th episode of Candy Crush Saga and the first episode of World Four. This episode was released on December 5, 2012. The champion title is Holiday Spirit.
Due to the number of levels which are hard to pass, it is available to be voted as the hardest episode in the game.
Before episode:
Tiffi encounters a gingerbread woman who is missing her mouth.
After episode:
Tiffi puts on a mouth for the gingerbread woman with icing, she thanks Tiffi for the mouth and Tiffi says 'Happy Holidays!'.
New things
Edit
Bomb-producing candy cannons () are introduced here. (Brief Description: A dispenser that releases bombs.) Previously only candy cannons producing liquorice swirls or ingredients were seen. The new candy cannons are what make this episode hard.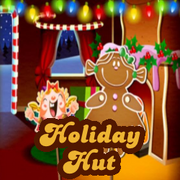 This episode contains levels 261-275.
Holiday Hut has five somewhat hard-hard levels: 264, 265, 269, 270, and 275 and two very hard levels: level 266 and level 273. As a result, it is much harder than the previous episode, Delicious Drifts.
 Difficulty coding
None • Very Easy • Easy • Somewhat Easy • Medium • Somewhat Hard • Hard • Very Hard • Insanely Hard • Variable
 Note that goals include target score.
Level
Type
Moves
Target score
Goal
Walkthrough
Remarks
261
50
55,000
: 27

04:57

Candy Crush Saga Level 261

 are introduced
262
35
65,000
: 32

02:57

Candy Crush Saga Level 262

263
50
50,000
: 4

02:26

Candy Crush Saga Level 263

264
40
30,000
: 3

02:28

Candy Crush Saga Level 264

265
30
40,000
: 8

03:26

Candy Crush Saga Level 265 - 3 Stars No Boosters

266
50
25,000
: 5

04:32

Candy Crush Saga Level 266

267
Infinite
100,000
: 100,000 pts in 1.5 mins

02:42

Candy Crush Saga Level 267

268
30
20,000
: 2

02:48

Candy Crush Saga Level 268

269
50
30,000
: 16

03:16

Candy Crush Saga Level 269

270
30
55,000
: 27

01:57

Candy Crush Saga Level 270

271
50
15,000
: 1   : 1   : 1

04:02

Candy Crush Saga Level 271

272
45
100,000
: 5   : 5

01:47

Candy Crush Saga Level 272

273
50
75,000
: 36

04:04

Candy Crush Saga Level 273

274
30
60,000
: 99

02:16

Candy Crush Saga Level 274

275
45
130,000
: 65

02:36

Candy Crush Saga Level 275 NEW
Candy Crush Saga
Episodes
Reality

•

•
•

•

•

•

•

•

•

•

•

•
•

•

•

•

•

•

•

•
•
•

•

•
•

•

•

•

•

•

•

•

•

•

•

•

•

•

•

•

•

•

•
•

•

•
•
•
•

•

•

•
•

•
•
•

•

•

•

•

•

•

•

•

•

•
•

•

•
•
•

•
•
•

•

•

•
•

Dreamworld

•

•

•
•
•

•
•

•

•

•
•

•

•

•
•

•

•

•

•

•

•
•

•

•

•
•

•
•

•

•
•

•

•

•
•

•

•
•

•

•

•

•
•

•