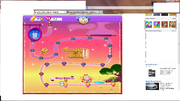 This is the list of levels in Dreamworld. There are 665 levels and 45 episodes in Dreamworld. One is required to complete all of the levels of the Reality counterpart to access the Dreamworld counterpart. There are a few differences that are present in every level besides the type. With the exception of the beginning of Sleepy Slopes and the end of Dozy Dawn, the stories are replaced with animations that represent an ideal and happy situation. Each episode begins by starting at the first level, no story beforehand.
An owl named Odus is in each level perched atop the moon scale and 2 random coloured candies on each side of him which you must balance or else you will automatically fail the level. The moon scale is not affected by any order of a specific candy colour.
The moon scale tracks your moves and, when filled to the top, creates an effect called moon struck which removes one or two colours from the board completely until the effect ends in a certain amount of moves. One colour appearing on the moon scale will be removed if there are five colours of candies. Both colours on the moon scale will be removed if the board includes six colours.
 Difficulty code summary (details here)
None • Very Easy • Easy • Somewhat Easy • Medium • Somewhat Hard • Hard • Very Hard • Extremely Hard • Nearly Impossible • Variable
 Note that goals include target score.
Trivia
All timed levels seem to be replaced with another level type which includes 7 new moves levels, 15 new jelly levels, 6 new ingredients levels, and 10 new candy order levels. In addition, two of the jelly levels has been replaced by a candy order levels (172 and 276), and one moves level has been replaced by a jelly level (612).
For candy order levels that require specific coloured candies, the moon scale works as normal. For example, if the moon scale requires the balance of blue and purple candies, but the level requires 35 blue candies and only includes single moon struck, the absence of blue candies during the only moon struck may make the level impossible.
Dreamworld includes 25 moves levels (3.76%), 304 jelly levels (45.71%), 181 ingredients levels (27.22%), and 155 candy order levels (23.31%).
Originally, Dreamworld was only going to be a trial to see if the idea would work. 
Some Dreamworld levels are much harder than Reality levels, however, some are not.
See also
Ad blocker interference detected!
Wikia is a free-to-use site that makes money from advertising. We have a modified experience for viewers using ad blockers

Wikia is not accessible if you've made further modifications. Remove the custom ad blocker rule(s) and the page will load as expected.