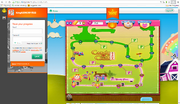 Candy Crush Saga is known for having more levels than most other games have. There are currently 2405 levels all within 161 episodes on web version (2375 levels within 159 episodes on mobile), each with fifteen levels apart from the first two episodes which hold ten levels each. There are six level types in Candy Crush Saga: Moves
, Jelly

, Ingredients

, Timed

, Candy Order
, and Mixed

.
Here is a complete list of Reality levels in the game. A complete list of Dreamworld levels can found at List of Dreamworld Levels.
 Difficulty code summary (details here)
None • Very Easy • Easy • Somewhat Easy • Medium • Somewhat Hard • Hard • Very Hard • Extremely Hard • Nearly Impossible • Variable
 Note that goals include target score.
See also
Ad blocker interference detected!
Wikia is a free-to-use site that makes money from advertising. We have a modified experience for viewers using ad blockers

Wikia is not accessible if you've made further modifications. Remove the custom ad blocker rule(s) and the page will load as expected.