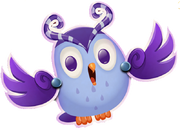 Odus is an owl who helps the player in Dreamworld. Odus is the owl that carries Tiffi off to Dreamworld whenever Tiffi goes to sleep as he believes that she needs a break from helping people. Odus balances on the moon scale during Dreamworld gameplay. Although he is an owl, he will fall off the moon scale if the player matches too many of a certain candy type, and the level will be failed, requiring the player to start again.
Appearance
Edit
Odus has a violet-theme colour body, which matches the night sky. He has a very three dimensional look, even though he is just animated artwork. His eyebrows resemble purple striped candy canes, and his wings are a bit small. If you look closely when he is in a nervous state, you can see that his feet and wings are not connected to his body. During moon struck, he is seen flying into the middle of the board (where a moon appears), turning into a silhouette, and then blowing up the colour matching the left side of the moon scale in a five-colour level, or both colours on the moon scale in a six-colour level.
Balancing
Edit

There are two random coloured candies on either side of the moon scale that Odus sits on. The candies of the two colours on the moon scale must be balanced to prevent it from leaning too far over on one side, and eventually completely tipping over the scale that can cause Odus to fall off. If too many candies of a particular colour on the moon scale are cleared without the other colour balancing it, Odus will eventually fall off and you fail the level. The more the scale leans to one side, the more worried Odus becomes in fear of falling off the scale. On mobile devices, if the moon scale completely tips over, Odus will look down at the bottom, have an elongated body, and will fall, covering his eyes with his wings, resulting in a failure of that level. On web version, he seems to just jump down from the moon scale.
Sometimes, as always in the game, a single switch can escalate into a large cascade. If this happens in Dreamworld when moon struck is not activated or if the level objective is not completed, too many of one colour could be collected in the cascade and through no fault of your own, cause a life to be lost. Odus also makes the use of special candies risky in general (especially colour bombs), as special candies generally result in a large amount of candies being cleared, which could again trigger Odus to fall. "Divine!" cascades are also dangerous.
Because of this, Odus has become one of the most hated elements and the most hated character in the game.
Episode Appearance
Edit
First Appearance
Problem
Banana Beach: Nobody is windsurfing with the lonely Owl.
Solution
Banana Beach: Tiffi attaches Odus's surfboard to her boat so he can now go windsurfing.
Full List of Appearances
Dreamworld:



Reality:
From

to

Other than being the main element in Dreamworld, Odus also appears in the story of many episodes.
Dreamworld
Edit
After the release of Dozy Dawn, he starts to appear in Reality as cameo characters, often hiding somewhere in the scene.
Future Appearances
Edit