Episode
1
World
World One (Dreamworld)
Levels
1 - 10
Characters
Tiffi, Odus
Mr. Toffee (only on map in mobile)
New features





Released
: November 27, 2013

: December 10, 2013

Difficulty
Very easy
Previous
Next
N/A
Funky Factory
Sleepy Slopes is the 1st episode in Dreamworld and the first episode of World One of Dreamworld. This episode was released on November 27, 2013. It's the Dreamworld equivalent to the Reality episode Candy Town.
Before episode:
Tiffi becomes tired from helping folks, and goes to sleep. Odus, an owl, said to Tiffi, asleep, "Maybe someone should help you for a change?".
After episode:
Odus makes a dream come true for Tiffi, bringing her into the Dreamworld itself.
New things
Edit
The Moon Scale, a scale that needs to have balanced candies on both sides, is introduced.
Icing  is present in all ten levels of this episode (eight of the levels in mobile).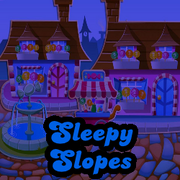 This episode contains levels 1-10.
Sleepy Slopes is slightly more difficult than its Reality counterpart, Candy Town. The addition of blockers, specifically icing, and the new concepts including the Moon Scale and being Moon Struck can cause confusion at first.
 Difficulty coding
None • Very Easy • Easy • Somewhat Easy • Medium • Somewhat Hard • Hard • Very Hard • Insanely Hard • Variable
 Note that goals include target score.
: 0
: 2
: 8
: 6
2
0
0
0
0
0
0
0
Level
Type
Moves
Target score
Goal
Walkthrough
Remarks
1
: 15

: 8

: 2,500

: 300

: : 2,500 pts
First level. Introduces Moon Scale and
2
: 20

: 8

: 10,000

: 300

: : 10,000 pts
Tutorial level
3
20
6,000
: 6,000 pts
4
15
25,000
: 25,000 pts

01:26

Candy Crush Saga Dreamworld Level 4 (Traumland)-1

The first level whose candies do not start from rest
5
20
10,000
: 10,000 pts

03:03

Candy Crush Saga Dreamworld Level 5 (Traumland)-2

6
16
12,000
: 12

01:22

Candy Crush Saga Dreamworld Level 6 (Traumland)-2

First
7
30
60,000
: 52

03:17

Candy Crush Saga Dreamworld Level 7 (Traumland)-1

8
30
20,000
: 17

01:56

Candy Crush Saga Dreamworld Level 8 (Traumland)-1

9
30
22,000
: 22
10
30
40,000
: 39
Candy Crush Saga
Episodes
Reality

•

•
•
•

•

•

•

•

•

•

•

•
•

•

•

•

•

•

•

•
•
•

•

•
•

•

•

•

•

•

•

•

•

•
•

•

•

•

•

•

•

•

•
•

•

•
•
•
•

•

•

•
•

•
•
•

•

•

•

•

•

•

•

•

•

•
•
•

•
•
•

•
•
•

•

•

•
•

•
•

•

•

•

•
•
•
•

•

•
•

•

Dreamworld

•

•
•
•
•

•
•

•

•

•
•

•

•

•
•

•

•

•

•

•

•
•

•

•

•
•

•
•

•

•
•

•

•

•
•

•

•
•
•

•

•

•

•

•