Removed content

This page contains information about content that was previously in the game but got removed.
Episode
10
World
2
Levels
126-140
Characters
Olivia
New features

(unofficial)

Release date
 - 26 February 2014
 - 13 March 2014
Difficulty
Medium
Previous
Next
Sparkle Submarino was the 10th episode in Dreamworld and the fourth episode of World Two of Dreamworld. This episode was released on 26 February 2014. It was the Dreamworld equivalent to the Reality episode Wafer Wharf.
Olivia relaxes in the water with water wings on her tentacles and a duck float.
New things
Edit
Candy order levels () are introduced.

The moon scale, however, is independent from the candy colours of required orders. That means if there is absence of one colour due to moon struck, the player cannot collect that colour until the moon struck is over. However, this may be dangerous if you have a low amount of moves and the order is not collected, as the board may be dry of that colour and make it near impossible to get more of that colour.

Four-layered icing () is unofficially introduced in level 137.
Level 129 is the first level in Dreamworld with 9 moves.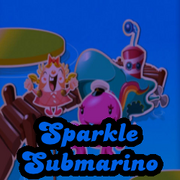 This episode contains levels 126-140.
Sparkle Submarino is a medium episode. It has four somewhat hard-hard levels: 129, 134, 135, and 139 and one very hard level: 130. Overall, it is much easier than the previous one, Bonbon Baths, but it have the same difficulty as the reality counterpart Wafer Wharf.
| 5 | 6 |
| --- | --- |
| 3 | 3 |
 Difficulty code summary (details here)
None • Very Easy • Easy • Somewhat Easy • Medium • Somewhat Hard • Hard • Very Hard • Extremely Hard • Nearly Impossible • Variable
 Note that goals include target score.
| | | | | | | | |
| --- | --- | --- | --- | --- | --- | --- | --- |
| | Level | Type | Moves | Target score | Goal | Walkthrough | Remarks |
| | 126 | | 20 | 10,000 | : 35   : 35   : 35 | | First level |
| | 127 | | 16 | 20,000 | : 35   : 35 | | |
| | 128 | | 30 | 25,000 | : 88 | | |
| | 129 | | 9 | 15,000 | : 30   : 30   : 30 | | |
| | 130 | | 25 | 40,000 | : 5 | | |
| | 131 | | 24 | 15,000 | : 6 | | |
| | 132 | | 30 | 50,000 | : 2   : 4   : 6 | | The seventh  in a row |
| | 133 | | 26 | 45,000 | : 29 | | |
| | 134 | | 30 | 40,000 | : 30 | | |
| | 135 | | 25 | 70,000 | : 6 | | |
| | 136 | | 25 | 50,000 | : 1   : 1   : 2 | | |
| | 137 | | 18 | 30,000 | : 1   : 1 | | Unofficial release |
| | 138 | | 26 | 25,000 | : 18 | | |
| | 139 | | 30 | 50,000 | : 2   : 2 | | |
| | 140 | | 34 | 50,000 | : 15 | | |