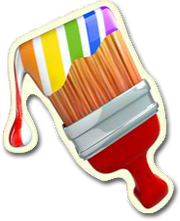 Striped brush (also known as Paintbrush) is a booster and formerly a charm in Candy Crush Saga. It is unlocked at level 37.
To activate it, one would click on a candy and it would turn said candy into a striped candy. You can choose which direction the striped candy becomes, by adjusting the mouse before clicking.
This item was previously released as a charm named Charm of Stripes. Charms were removed from the game when the 29th episode, Soda Swamp was released. However, with the release of the 104th episode, Biscuit Bay, it has returned as a single-use booster.
As a charm, the price was $40, with unlimited use (once each play) once bought. As a booster, each usage costs 15 gold bars but can be used multiple times each play.
The usefulness of this item can be negated in many later levels which render this charm too weak. It is only as strong as a Lollipop Hammer tactically.
Description
Edit
Game description
Edit

Old (Charm of Stripes): "This charm lets you paint stripes in any candy, once per game! Use now!".
New (Striped brush): "Paints pretty stripes on a candy of your choosing. Click to buy!"
Web description
Edit
Paint stripes on any candy to reap the benefits of a Striped Candy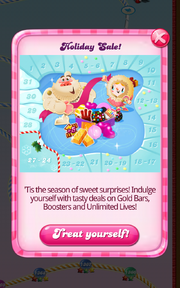 When it was unavailable, it still appeared in various info screens.
This booster was released on February 17, 2016.
It's unknown if this booster will get an introduction level.
This booster can be used in all level types.
This is the first booster that is a reformed version of a charm.
In Licorice Luna, Tiffi used this booster to paint the planet.
Accounts with charms still had the charm instead of this booster. In this case, the button is blue (ready to use) instead of green (out of stock).
The striped brush can paint over a sugar drop and override its effects.
This booster is no longer available and it's unknown when it will possible to use it again.
Walkthrough
Edit