I'm about thinking of making this contest before uploading here the Sodalicious designed LDC.
Rules
You can only use your personal css to design it.
Only one or two entries per user

This rule does not apply to the owner of this blog post.

It should show this wiki only and you should select a mainspace article.
If your entry is good, then I'll double your points earned when I see your uploaded level in the future Soda LDC.
The winning ones will be featured in my featured arcade images
You should not use the ones I've made here
If you make your own version, explain how it works
If you give an image, it will be great. You must give it to be not disqualified.
Example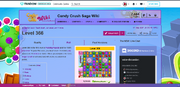 Ranks
na (Will have score x3 in my next ldc)
na (Will have score x2 in my next ldc)
na (Will have score of x1.5 in my next ldc
For the rest, a big thank you. Hope you also participate on my soda ldc on 10 August 2017.