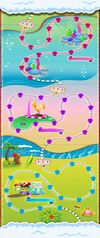 World is a segment of the overall map in Candy Crush Saga. There are currently 52 complete worlds in Reality and eight complete worlds in Dreamworld. The worlds carry no themes themselves, but are divided into Episodes. The first 10 worlds are full-length; they contain six episodes. World Eleven and beyond contain only three episodes (aka as half-worlds).
On web version, the worlds are separated by clouds. The cloud has a pink arrow on it that when clicked, the player moves up and gets to view the next or previous world. On mobile, nothing indicates different worlds, the whole map is fully connected.
Worlds were first added at the release of Fudge Islands. This feature was included to break down the size of the map as it was one long continuous stream. Also, the pathway of the episodes in web has been changed, no matter why the pathway between mobile and web are different, and why the pathway of the first few episodes in mobile are short.
Currently, in Reality, World Fifty-Three has been completed (with 1 episode), the latest episode being Tacky Tent.
In Dreamworld, World Eight has only three episodes. The third episode, Dozy Dawn, has brought this world and the entire realm to the end.
List of Reality worlds
Edit
The world titles printed in Italics indicate worlds that are not need tickets to advance to the next episode.
List of Dreamworld worlds
Edit
Note: These worlds are no longer available because Dreamworld was removed on 17 May 2017.